Skip to Content
Commercial Landscaping Services in Bowie, MD
Benefits of Commercial Landscaping
When you partner with the professionals at Eastern Grounds Landscaping, LLC, your Maryland and Virginia business will bloom with beauty. Often, the first impression of your business is its exterior – and that includes its landscape. For over 25 years, we've worked closely with business owners in the area to help them bring their dream landscape to life. We understand the importance of the exterior of your business. That's why we offer commercial landscaping services that are designed to keep your outdoor space looking professional and welcoming. Whatever your unique needs for your commercial property are, we are happy to work with you and ensure that they are met.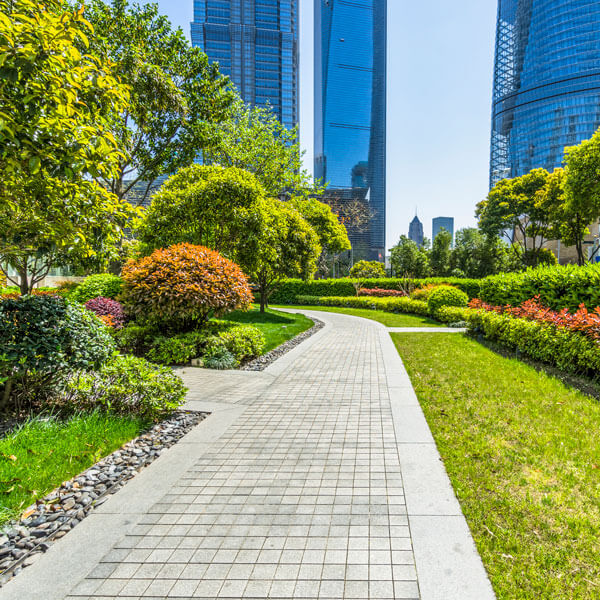 Our Comprehensive Commercial Landscaping Services
Eastern Grounds Landscaping, LLC is dedicated to providing Maryland and Virginia business owners with the best commercial landscaping services in the area. We take pride in always going above and beyond for our customers, ensuring they receive the best results and nothing less. Our premier commercial landscaping services will elevate the beauty and enhance the health of your lawn or landscape. Leave the time-consuming lawn care to our professionals and spend more of your valuable time doing what matters most – managing your business. Our premier commercial landscaping services include:
Landscape Removal
Are you starting fresh? Did you just buy a new property and need the previous landscaping removed? Hire our team for quick and effective landscape removal.
Landscape Enhancement
Make the most of your space with our enhancement services. We can help you install to increase your curb appeal and look great for your clients and employees alike.
Ornamental Maintenance
Ornamental landscaping requires routine maintenance to stay looking great. We'll conduct routine maintenance so your property always looks professional.
Seasonal Design
Different seasons make way for different approaches with unique, seasonal plants and flowers. With our years of experience, we can help you always stay in season.
Insect Control
Insects on your property make people not want to come back. We conduct in-depth pest control to keep your grounds safe and welcoming.
Fertilizer and Weed Control
Make sure the right plants are growing on your commercial property with our fertilizing and weed control services.
Tree and Shrub Care
We perform routine maintenance on all your tree and shrubs to keep them looking their best and not infringing on walking or safe spaces.
Mulching
Your flower and tree beds require seasonal mulching for healthy growth and presentation. We'll take care of your mulching needs – one less thing for you to have to worry about.
How Can My Company Benefit From Commercial Landscaping?
Your company can benefit in more ways than one with our commercial landscaping services. Benefits include:
Reducing erosion and improving air quality as you put off a greener, more environmentally-conscious image for the community.
Looking professional for clients, customers, and employees.
Being an attractive property increases how others view you.
Increasing your revenue as studies have been shown to display more earnings as a result of taking better care of their property. Plus, resale value skyrockets as you improve your landscaping with new features, trees, and otherwise routine maintenance.
Why Choose Eastern Grounds Landscaping?
If your company's exterior is looking less than exceptional, it's time to contact your local landscape professionals in Bowie, MD. At Eastern Grounds Landscaping, LLC, we can keep your business looking beautiful and professional year-round with our premier commercial landscaping services. From landscape removal and insect control to ornamental maintenance and mulching, there's nothing we can't handle. We provide high-quality commercial landscape services that are consistent, reliable, and affordable. Our landscape specialists will provide exceptional lawn care services to Maryland and Virginia businesses. Call Eastern Grounds Landscaping, LLC today to schedule your free estimate.
Providing Premier Landscaping Services in Delaware, Maryland, and Virginia